Traceability solution, enabling fashion brands to gain control over their ESG challenges
K3 ViJi is a traceability solution enabling fashion brands to gain control over their ESG (Environmental, Social, and Governance) challenges by collecting data from Purchase Orders aligned to critical brand, supplier, and product information. K3 ViJi also uniquely authenticates certificates throughout the supply chain thanks to our connections with trusted certification bodies, ensuring that businesses have a single version of the truth from source to consumer.
Equipped with visibility and actionable insights, companies can measure, justify, and promote key ESG actions to consumers, organisational stakeholders, and ensure compliance with current and emerging legislation.
K3 ViJi – made for fashion and apparel experts, by fashion and apparel experts.
Introducing ViJi Track
ViJi Track is a SaaS-based web platform that enables brands to manage their ESG data and associated evidence to ensure they have a complete view over their supply chain.
With automatic collection, centralisation, and authentication of key ESG data in real-time, brands can rest safely knowing they're compliant with legislation.
To make life easy for brands, ViJi Track follows a simple three-step process:
Collect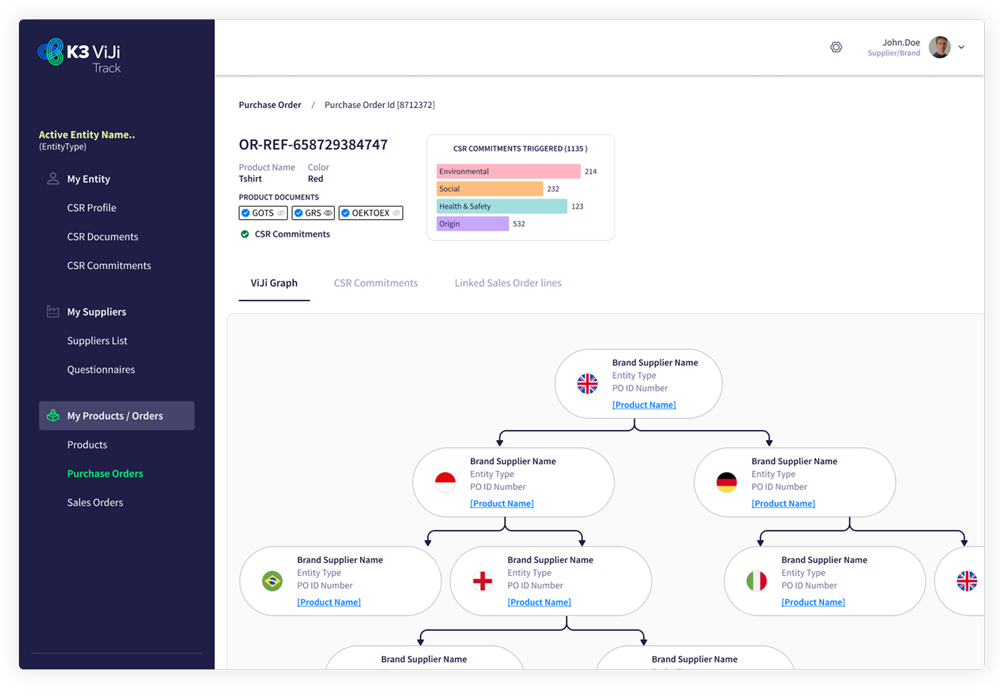 COLLECT
Easily match each component to the final product downstream the supply chain via our solution's smart linking system, enabling:
Granular and accurate order level data usage
Increased productivity through automated reminders and alerts
Proactive identification and management of potential environmental and social breaches
Introducing ViJi Clic
ViJi Clic is a B2C web-based plugin connecting to any relevant URL, empowering organisations to automatically display ESG data aligned to an individual product, in real-time.
This enables brands to show the full traceability of their products while further ensuring compliance with due diligent laws.
Certificates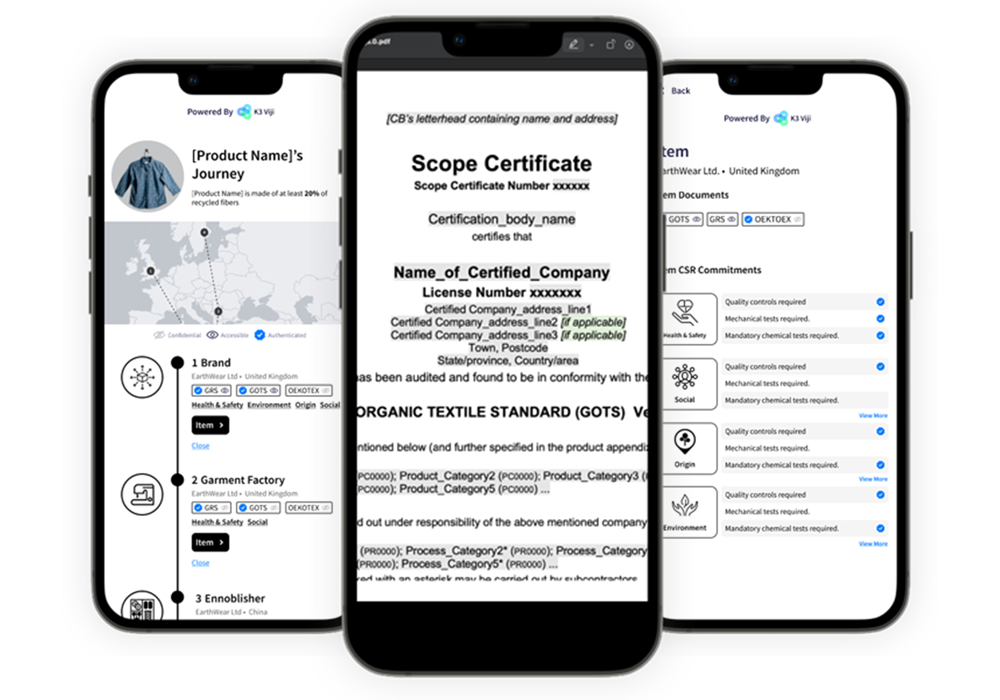 CERTIFICATES
Enhance customer journeys with easy access to any ESG data and relevant certificates.

Why choose K3 ViJi
Today, there are a plethora of legislative mandates – like France's AGEC law and Germany's LkSG – holding brands accountable for ESG failures in their supply chains. As more legislation is introduced in the coming years, businesses will be required to champion eco conception targets, digital passports, and display the environmental footprint of products.
These legislative mandates will ultimately lead to an increase in manual processes and resource requirements… painful for any business. And with many brands lacking confidence in their data, these challenges will only get worse.
K3's ViJi platform is committed to supporting brands in every step of their traceability journey.
Drop us a line, and we will walk you through our solution
Have a no-obligation chat with our specialists to find out how we can help you meet your customers' demands.