Beneath the Drape: Everything you need to know about fashion and retail tech #2 AI and Personalisation
Welcome back to our 'Beneath the Drape' series where we deep dive into the current fashion and retail technology landscape. The purpose of this series is to analyse the technologies that are necessary for fashion retailers to remain competitive while also charting a course for where the future may lie.  
Last time, we explored the undeniable importance of an omnichannel approach in today's fashion and retail climate.
Consumers increasingly expect to be served on the channel of their choosing, and at the moment of their choosing.
But more to the point, as omnichannel experiences continue to forge relationships between businesses and consumers, the need for hyper personalisation will grow.  
In fact, according to McKinsey, advanced personalisation techniques are already playing out across many industries – but particularly so for fashion.  
Even now, 71% of consumers expect companies to deliver personalised interactions while a comparable proportion say it's frustrating when this doesn't happen.  
So, how can fashion brands and retailers deliver hyper personalised experiences? The answer lies in leveraging Artificial Intelligence (AI) and data.  
AI's role will be invisible, but influential 
Given how quickly the technology is developing, it's indisputable that AI will alter the course of the fashion and retail landscape.  
While its role will largely be invisible, from an outside perspective, it will be influential in reshaping the industry. From spotting buying pattern trends through to personalising engagement with customers, the impact of AI will be felt everywhere.  
Last year, Sean Culey, author of 'Transition Point: From Steam to the Singularity', shared his thoughts on how AI will reshape retail. At the time, he said: 
"I think AI will be the most important disruptive tech from a retail perspective, with machine learning being a subset of AI. We're seeing this already with everything from website recommendations through to stores that track your movements and automatically record what you pick from the shelves." 
Indeed, as Sean noted, there are already several major paradigm shifts that have been facilitated by automation and AI.
For one, there is the 'Personalised, Automated and Localised' (PAL) supply chain.  
With the PAL supply chain, clothes can be made more personal and logistics can become increasingly localised as consumers continue to expect instant gratification.
People expect a much wider array of choices – and not just over what they buy. They expect various options from where they purchase something from, on which device they use, whether it's sent to their homes, a store nearby or even a smart locker.  
"The PAL supply chain emerged specifically because of the wealth of choices afforded by eCommerce," explained Sean. 
"Increasing consumer expectations and the rise of omnichannel demand capture and logistics are the forces really driving the PAL supply chain. In order to provide all these choices to consumers, you're going to have to offer increasingly personalised, on‐demand services and you're going to have to redesign your supply chain network to accommodate this." 
The red thread between these elements is automation. Before long, machines will have progressed to the point where they can mass produce customised items based on the individual's personal size, and tailor make pieces unique to a customer's style.  
AI-based algorithms will become commonplace
In 2021, K3 conducted a research project which surveyed 2,000 UK consumers and remarkably found that 51% of respondents want to avoid human interaction with store staff.  
What this crucially means for fashion retailers is that they must start to adopt technologies that allow consumers to shop by themselves, without the guidance of a store assistant.  
While this can initially be a difficult idea to digest, we only need to look at the concept of  virtual fitting rooms to see how this can be achieved.  
By utilising technology, such as AI, Augmented Reality (AR) and 3D scanners, businesses can create fitting rooms that allow shoppers to virtually try-on clothes via smart mirrors that overlay images of the product on top of the customer.  
To take this further, like Sean outlined, AI-based algorithms could then be introduced to provide shoppers with recommendations based on their personal style choices and preferences.  
And interestingly, the appetite for virtual fitting rooms is already there. In 2020, virtual fitting rooms were valued at just less than three billion dollars but estimates suggest this number could rise exponentially to $13 billion by 2028, as per Statista.  
The same study also revealed that a third of shoppers would use smart mirrors to try-on clothes if the technology was available in a store they planned to visit anyway. Further to that, 21% said they would explicitly go out of their way to use this feature while 18% have used a virtual fitting room already.  
For fashion and retail businesses that are still sceptical, there is significant opportunity to increase profits by adopting AI technologies into their operations.  
In fact, McKinsey data suggests that those who have embedded AI into their business to increase operational efficiencies and improve customer engagement could realise a 118% cumulative increase in cash flow by 2030.
For those who have just started on their AI journey, implementing the technology between now and 2030 could net them a 13% increase in cash flow.  
Hyper personalisation requires a 360-degree view of the customer
For businesses to achieve hyper personalisation, they must first create a complete 360-degree view of the customer. Or else, it will be difficult to offer the customer exactly what it is they're looking for.  
This is a particularly troublesome affair in the retail and fashion industry. Customers shop across many different channels and platforms which in turn creates an abundance of data that is often siloed and in varying formats.  
But there are integrated solutions, like our own K3 Fashion, that are embedded in platforms, such as Microsoft's Cloud for Retail, that enable businesses to collect this data and personalise their engagements with customers.  
The key to any successful customer experience lies in having holistic customer insights and this is exactly what solutions like these provide. They offer a complete end-to-end view of the shopper's journey while utilising a predictive AI retail churn model built on real-world data.  
By leveraging these capabilities, fashion and retail businesses can unify data across disparate sources to create a complete 360-degree view of the customer.  
This information can subsequently be used to provide hyper personalised experiences, reveal new opportunities and most importantly: improve customer satisfaction.  
When considering that 71% of people already expect to receive personalised experiences, it's clear that businesses must start to adopt solutions that allow them to meet this demand. This becomes an even more pressing issue when you consider the abundance of choices shoppers have – meaning they can easily find an alternative to your business.  
After all, consumer demands are fickle and ever-changing. And on that note, it's important to mention our next topic: sustainability. Shoppers, rightfully, want to shop sustainably. So now, fashion and retail businesses must implement solutions that meet this demand as well.  
Join us next time as we explore how prepared brands are to meet the burgeoning need for more sustainable practices!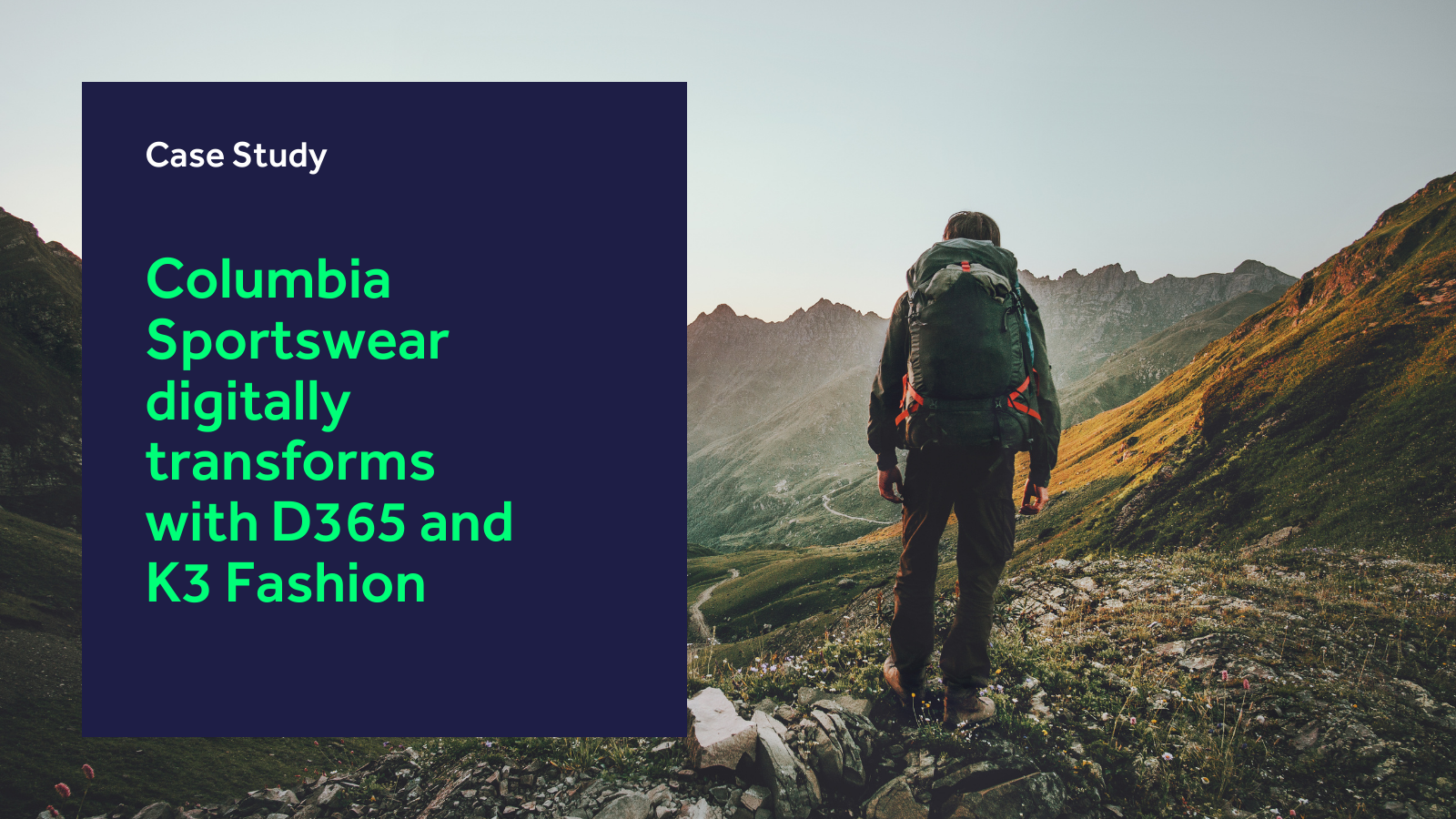 https://www.k3btg.com/wp-content/uploads/2022/05/Columbia-Sportswear-blog-header.png
900
1600
Jordan Heal
https://www.k3btg.com/wp-content/uploads/2022/03/K3_Master_Colour_RGB.svg
Jordan Heal
2022-05-27 08:45:53
2022-08-05 11:06:45
Columbia Sportswear digitally transforms with D365 and K3 Fashion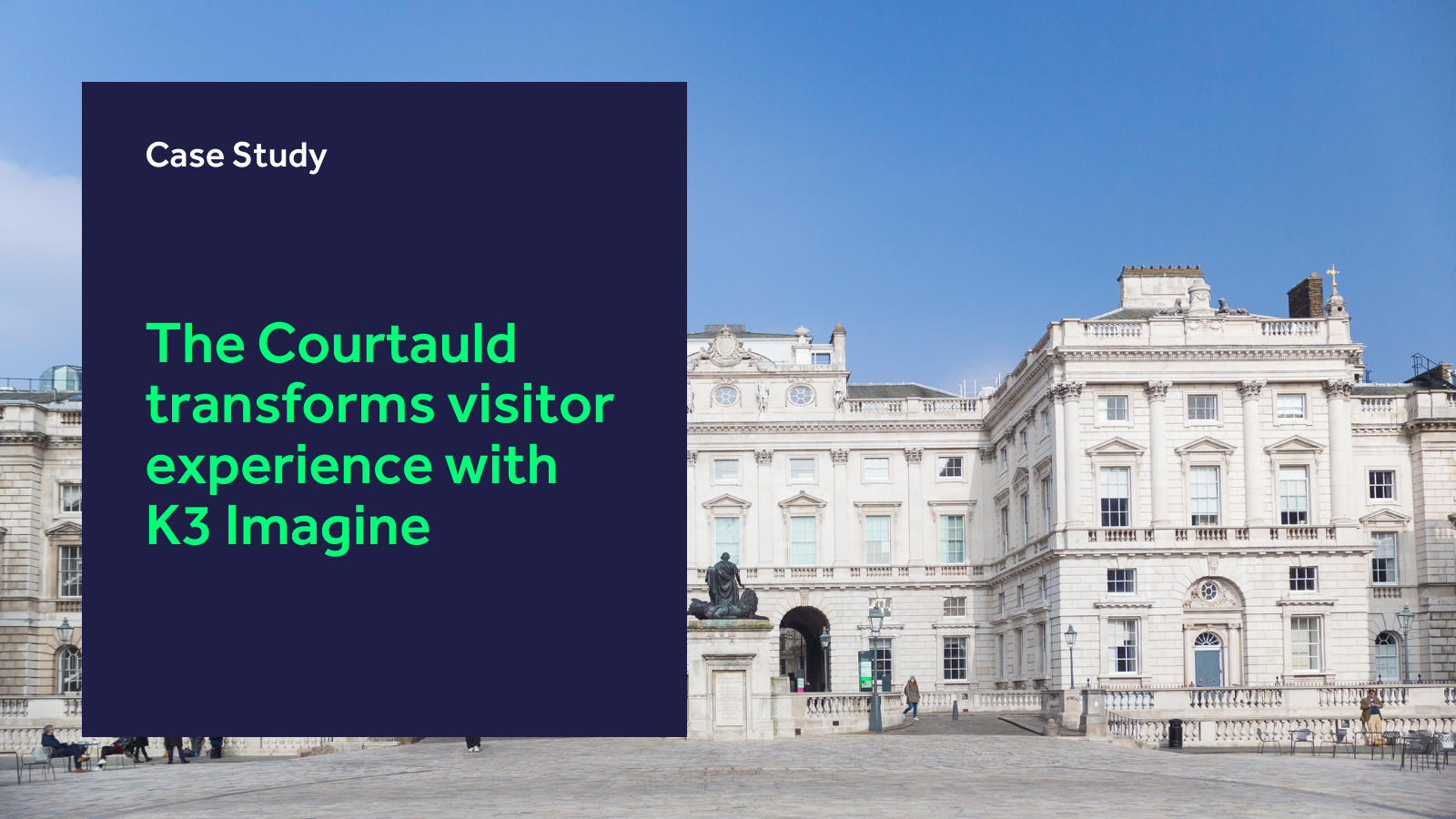 https://www.k3btg.com/wp-content/uploads/2022/05/The-Courtauld-Blog.png
900
1600
Jordan Heal
https://www.k3btg.com/wp-content/uploads/2022/03/K3_Master_Colour_RGB.svg
Jordan Heal
2022-05-11 14:14:08
2022-08-05 11:05:51
The Courtauld transforms visitor experience with K3 Imagine